M. E. Whitehill-Watercolors
"Paintings to enhance your life"
About the Artist
Home | Originals | Biography | Prints | Links | Note Cards | What's New | Ireland | Schedule | Sold Paintings | E-Mail


This is a photo taken of me walking on the Newburgh-Beacon Bridge. For an interview check The Senior Gazette. Click Current News on menu and look for previous issue of March 2-9, 2009.
My Great Grandfather was a Hudson River Artist, Thomas B. Pope.
I knew at an early age that I was born to be an artist. I received a degree in Art and Art History from Wells College, where my German professor was also a watercolorist. His enthusiasm for the medium created my dream to paint with watercolors.
The dream was on hold during the war years and because of the demands of four children, and in the 1960's I took advantage of New York State's Title II program to receive an MS in Library Science from SUNY Albany.
After 20 years as a Librarian I retired in order to paint full time. My dream had come true at last.
I found many opportunities to study watercolors with the masters.

My first instructor was Carol St.John, followed by Edgar Whitney, Frank Webb, Carlton Plummer, Janet Walsh, Ruth Baderian, Tony Van Hasselt, Charles Sovek among others.
I recommend workshops as a means to explore the many styles and methods of watercolors and to interact with other artists.
This is a 5" x 7" oil painting by T.B. Pope. It is a view of the Hudson River looking north. Pope also painted in pastels and watercolor and like many artists today gave lessons in order to make a living. Pope was a self taught artist and sold to residents of Newburgh, but today his work is found throughout the United States.



Here's a little watercolor by
T. B. Pope that I found in an antique shop.

I prefer working on site or "pleine air", from the French phrase "en pleine aire" meaning in fresh air or out of doors in natural light..
The outdoor experience is sometimes frustrating because of wind, insects, interruptions from other people, the constantly changing light etc.
The rewards outweigh these inconveniences. While you are working all your senses are heightened. You can hear the songs of the birds, hum of insects, music of the trickling stream.
You smell the delicious scents of new mown hay, flowers and herbs, pine trees or the salty air of the ocean. You have a constantly moving panorama of clouds, shadow shapes, other people going about their work and you notice minute details of rocks, flora and fauna.
Being able to reach out and touch the natural world lifts you to another level of joy.
Just don't touch the poison ivy.
Due to age related illness i can no longer paint plein aire, but have beautiful garden and river views from my windows. I will still post new paintings and art events on my What's New page.
Visit PLEIN AIR ARTISTS

As a member of LHVPAP, Lower Hudson Valley Pleine Aire Paintersyou may paint with a group of artists at designated locations absoluely free. All New York State Plein Aire Groups are without charges. For more information about this group contact Jamie Grossman, Director.


I am a signature member of the Pennsylvania Watercolor Society. North East Watercolor Society , Salmagundi Club of NY,
Kent Art Association and Ridgefield Art Association of Connecticut
Catskill Art Association, Ringwood Art Association and Community Arts Association, NJ.
I have served on the Board of North East Watercolor Society
President , Secretary and Newsletter Editor of the Middletown Art Group, NY.

Awards
Lifetime Achievment Award - Orange County Arts Councl 2010
First in Watercolor - Mt.St. Mary College "Artists on Campus" 2009
Award of Excellence - Middletown Art Group 2009
Artist of the Year - Wallkill Art School - 2008
Award of Excellence - Barrett Art Center - 2008
Award of Excellence - Middletown Art Group - 2008
Second in Watercolors - Orange County Art Federation 2007
Samuel Leitman Award - Salmagundi Club - 2007
Best in Show - Hudson Valley Artisans Guiild - 2007
Best in Show-Middletown Art Group - 2006
Cider Painters of America - Miniature Award - 2003
Best in Watercolor - Ringwood - 2000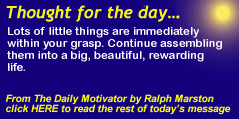 Click on the Daily Motivator for a truly inspiring experience. There are three slide shows with musical accompaniment.


Home | Originals | Biography | Prints | Note Cards | Links | What's New | Ireland | Schedule&nbsp| Sold Paintings E-mail
Web site created by M.E.Whitehill

Last updated January 3, 2012